Call for Artists
2020 AOTB Summer Arts Festival
June 20 – 21st
Details coming soon! In the meantime just contact us.
_______________
_______________
Join AOTB
YOU are Artists on the Bluff and this league would not exist without you.  Also please consider our volunteer options on the form.
Artists On The Bluff
Promoting the Arts… Encouraging Artists
From large murals to small treasures… from plein air masterpieces… to contemporary abstracts… from sculpture to fine art photography, our artists know no bounds. But what binds us together is a belief in the power of art… its ability to transform and inspire, and to give meaning along the way.
Members Monthly Meetings
Monthly meetings are held 1st Thursday of every month in the Lake Bluff Rec Center from September through May, 6:30 pm to 8:30 pm at the Lake Bluff Rec Center, 355 W Washington Ave, Lake Bluff, IL 60044. Interested in joining? Come to a meeting and meet us!
Gallery Exhibitions
All members are invited to participate in exhibitions at The Gallery in Lake Forest, Illinois. Read more . . .
Our Mission
Artists on the Bluff is a 501 (c)(3) nonprofit organization of local artists dedicated to promotion of the arts and encouragement of artists in general. We endeavor to achieve these goals through exhibitions, monthly meetings, educational programs, collaboration and participation in events in the Lake Bluff and Lake Forest, Illinois area.
Our Roots
Artists on the Bluff began back in the beginning of the new millennium, when two visionary artists . . . read more . . .
Current
AOTB Art Exhibition
Exhibition Opening Posters are for Sale in The Gallery and view selection here.
This month's exhibition poster features the art by Edie Ottoman Risher, poster design by Phillip Ross
Art Opening: Friday Jan. 10th, 2020
5:30-7:30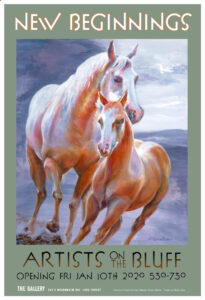 202 Wisconsin Ave.
Lake Forest IL. 60045
The AOTB Gallery is located in the Culinary Studio dining experience which is open typically from:
Wednesday-Thursday  5-8pm
Friday-Saturday evenings 5-9pm
These hours do change. Please check the Culinary Studio website for current hours: https://www.thegallerylf.com/culinary-studio.
Or, send us a message for a private showing.
All show posters available for purchase. See selection.