ART POP
724 Western, Lake Forest, IL. Open Thursday, Friday, Saturday 10am – 4pm
See the latest on artists showing in Art Pop on Art Pop's Instagram and Facebook pages.
The work in this store are produced by artists from three different art leagues, Artists on the Bluff, Lake Forest/Lake Bluff Artisans and the Deerpath Art League.
Current Event Happenings . . .
Check out the calendar for all events and members meetings here.
Events in ART POP store coming soon. Contact us for more information.
Join Artists on The Bluff – Sell Your Art in ART Pop
We are Artists On The Bluff and this league would not exist without you.  Also please consider our volunteer options on the form.
Artists On The Bluff
Promoting the Arts… Encouraging Artists
From large murals to small treasures… from plein air masterpieces… to contemporary abstracts… from sculpture to fine art photography, our artists know no bounds. But what binds us together is a belief in the power of art… its ability to transform and inspire, and to give meaning along the way.
Members Monthly Meetings
Monthly meetings are held 1st Thursday of every month in the Lake Bluff Rec Center from September through May, 6:30 pm to 8:30 pm at the Lake Bluff Rec Center, 355 W Washington Ave, Lake Bluff, IL 60044. Interested in joining? Come to a meeting and meet us!
Our Mission
Artists on the Bluff is a 501 (c)(3) nonprofit organization of local artists dedicated to promotion of the arts and encouragement of artists in general. We endeavor to achieve these goals through exhibitions, monthly meetings, educational programs, collaboration and participation in events in the Lake Bluff and Lake Forest, Illinois area.
Sky & Water is now open!
Stop by ArtPop in Lake Forest to see the current show, Sky & Water, now running. See the finest in Sky and Water as presented by your local artists.
Join us for the artists reception, July 21 from 5pm – 7pm.
ArtPop is open during normal days/hours: Thursday through Saturdays from 10AM to 4PM and by private appointments.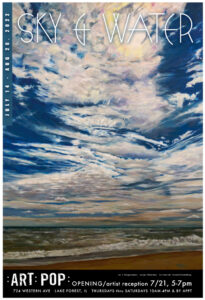 ArtPop is located:
724 N. Western Ave. Lake Forest
Sidewalk Sale!
They say you can't put a price on Creativity, but ArtPop did anyway! Discover a secret at this year's Sidewalk Sale and explore a treasure trove of artist's supplies, original works, books, ephemera, and so much more. Come by Lake Forest ArtPop and discover artistic gems that move you.
Hope to see you there.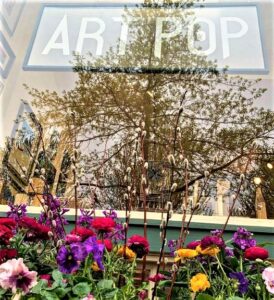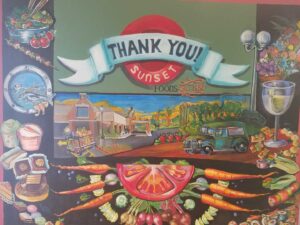 Read more . . .
Beyond the brush: Local artist renders mural at Lake Forest store

Our posters are designed by Phillip Ross.
Read the article about him in
the "Daily Northshore" 
All show posters available for purchase.
See selection.