Closed until further notice.
We've lost our current lease and the art shop at 724 Western Ave. has closed.
We will update any future activity. 
Thank you for your support, looking forward to seeing you again in the near future. 
Check out the calendar for all events and members meetings here.
Join Artists on The Bluff
Artists On The Bluff
Promoting the Arts… Encouraging Artists
From large murals to small treasures… from plein air masterpieces… to contemporary abstracts… from sculpture to fine art photography, our artists know no bounds. But what binds us together is a belief in the power of art… its ability to transform and inspire, and to give meaning along the way.
Members Monthly Meetings
Monthly meetings are held 1st Thursday of every month in the Lake Bluff Rec Center from September through May, 6:30 pm to 8:30 pm at the Lake Bluff Rec Center, 355 W Washington Ave, Lake Bluff, IL 60044. Interested in joining? Come to a meeting and meet us!
Our Mission
Artists on the Bluff is a 501 (c)(3) nonprofit organization of local artists dedicated to promotion of the arts and encouragement of artists in general. We endeavor to achieve these goals through exhibitions, monthly meetings, educational programs, collaboration and participation in events in the Lake Bluff and Lake Forest, Illinois area.
Artist Talk
Join us, March 2nd at 6:30pm as Lezlie Lenz presents her brief, free "Make & Take" postcard event to Artists on the Bluff.
Make & Take Collage Postcard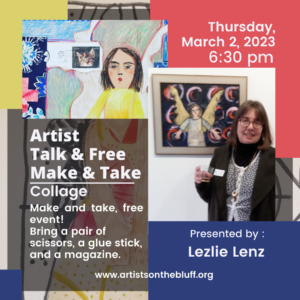 Artist Talk
Join us, February 2nd from 6:30pm – 7:30pm as Kelly Mathews presents her artist talk to Artists on the Bluff.
Being Bipolar in a Polarized World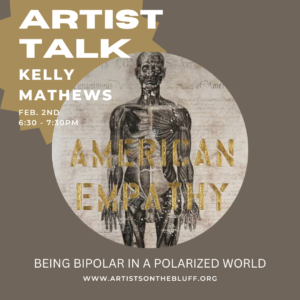 Members in the Media
Jewelry artist Stacy Vermylen takes us into the world of Art Therapy and how art creating is "More Than a Pretty Picture".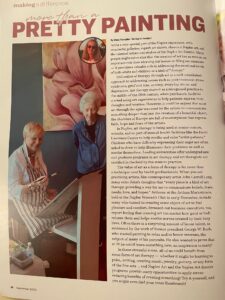 Our posters are designed by Phillip Ross.
Read the article about him in
the "Daily Northshore" 
All show posters available for purchase.
See selection.