When:
January 7, 2021 @ 6:30 pm
2021-01-07T18:30:00-06:00
2021-01-07T18:45:00-06:00
Where:
Online Zoom Meeting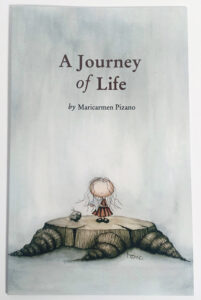 Artists On The Bluff
All Members Monthly ZOOM Meeting
6:30 p.m.
Sandie will send AOTB members an e-mail so you can join in.
Artist Maricarmen Pizano
speaks about her latest project "A Journal of Life"
"This sketchbook was made with the intention to outline a series of drawings for a future art show. I started to draw page by page until I realized I was telling a story that later I would come to title "A Journal of Life". Each sketch has an individual story that anyone can relate to, but are all connected through shared symbols. The language used in my sketches are simple concepts of emotion everyone has experienced. On each page what you will find in this sketchbook is my own journey through life. I hope you can draw from your own emotional experience while viewing it and come away with your own meanings. 
This below link will bring you to an online version of my sketchbook to reference during my talk:
https://www.sketchbookproject.com/library/S221750

During the zoom meeting we will review my favorite sketches, the stories behind the image and how I created my own language."
Social Media links:
Instagram: https://www.instagram.com/maricarmenpizanoart/
Facebook: https://www.facebook.com/Maricarmen-Pizano-Kind-of-Cute-183779048328801/
Website:  www.maricarmenpizanoart.com
Etsy: www.etsy.com/shop/maricarmenpizano
Bio:
My name is Maricarmen Pizano, I was born in Mexico City and currently living in Chicagoland.
I studied Architecture in the National Autonomous University of Mexico.  Art at the Palette and Chisel Academy of Fine Arts and after that my formation has been self taught.
To create my painting and illustrations using the language of color and line, putting emphasis on the small detail in order to leave a feeling, which speaks to my concept. I create textures that inspire to tell a story in poetic form, and call attention from the soul of the viewer. 
My inspiration is my Life. Every event, memory and every single feeling I experience contributes to my work.
Music and coffee are my two favorite condiments that help me to develop my concepts. When I paint I tell stories. Every detail and  stroke of my brush are equally important to express what I am trying to say.  The "game" between viewer and painting is fascinating to me. I like the way the spectator can tell their own individual story on a particular canvas. When this happens, when my artwork makes others feel in some way, is when I believe that my mission as an artist is complete. 
-Maricarmen Pizano.