When:
February 2, 2023 @ 6:30 pm – 7:30 pm
2023-02-02T18:30:00-06:00
2023-02-02T19:30:00-06:00
Where:
Lake Bluff Park District
355 W Washington Ave
Lake Bluff, IL 60044
USA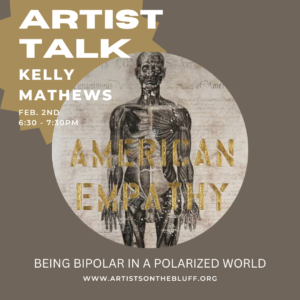 Join us, February 2nd from 6:30pm – 7:30pm as Kelly Mathews presents her artist talk to Artists on the Bluff.
BEING BIPOLAR IN A POLARIZED WORLD
How can I define what being Bipolar feels like? Can I tell when an episode is coming on? Have I developed coping mechanisms to deal with them? These are the questions I am routinely asked by my friends when I tell them about my illness. I've never really been sure what to say. You see, this is and has always been, my normal. I can't begin to imagine what your normal is to compare it to.
My exhibits and art are my attempt to answer these questions in the language I know best.
Kelly Mathews is an artist from Chicago, IL. She was born in small town Iowa where she pursued two things, art, and Arabian horses. After receiving her BFA from the Kansas City Art Institute, Kelly spent the next 22 years professionally training and showing Arabian horses. Her students have won numerous top National honors in the United States and Canada. Retiring in 2014 from professional riding, Kelly has returned full time to her art. Her history with addiction, rehab, recovery and bipolar disorder lends her a unique perspective on the world around her. Primarily using encaustic and photography, her work deals with social and political issues and erasing the stigma of mental illness.