When:
May 4, 2023 @ 6:30 pm – 7:30 pm
2023-05-04T18:30:00-05:00
2023-05-04T19:30:00-05:00
Where:
Lake Bluff Park District
355 W Washington Ave
Lake Bluff, IL 60044
USA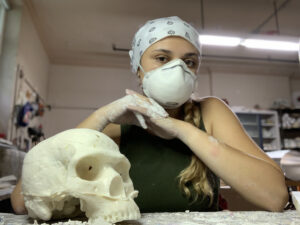 Join us, May 4th at 6:30pm for Kathleen Gallo's Artist Talk
About Kathleen Gallo
Gallo's work intertwines social commentary, fine art, medical/anatomical illustration, and forensic art into her body of work that examines what it means to be human. She leads an expedition into her own thoughts and emotions around the cyclical nature of destruction and birth. From highly rendered oil paintings to post-mortem facial reconstructions of skulls, Gallo shares her passion for science, anthropology, and the arts.
With her technical and artistic abilities, Gallo records osteological artifacts and recreates faces from the past. A post-mortem facial reconstruction is the artistic approximation of the facial characteristics of an unidentified deceased person based on the person's unique skull structure. Alongside examining death in an anthropological or forensic nature, Gallo also finds inspiration through her journey of confronting mortality. From articulating her struggle with OCD to sharing her journey of watching family mental and physical illness, she draws conceptual ideas from all periods of life as well as death.
By examining the human condition, Kathleen Gallo has managed to find success in her body of work and exercise her passion for history and justice. Gallo pushes herself to explore her emotional state, giving herself over to the fascination with things long past and examining humanity's relationship with life to capture its qualities and its gravity. Gallo hopes that her artwork may continue to give faces to the individuals who have had their dignity and identities stripped from them as well as open a dialogue surrounding the subject matter of human morality and mortality.