Aug
4
Tue
"Summer" Art Exhibition

@ The Gallery
Aug 4 @ 4:00 pm – 7:00 pm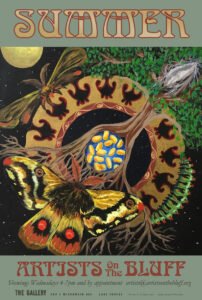 This month's Exhibition Opening Poster is for Sale in The Gallery along with previous ones. See all available posters on our website.
This month's exhibition poster features the artwork of Debra Zare, titled "The Cycle"
Show runs from August 8 – August 29
Showings Wednesdays 4-7pm and by appointment only.
Please contact artists@artistsonthebluff.org to arrange an appointment.
AOTB Gallery is located in
The Gallery, 202 E. Wisconsin Ave, Lake Forest, IL
Aug
13
Thu
Members Meeting-8-13-20

@ Lake Bluff Rec Center
Aug 13 @ 6:30 pm
Aug
30
Sun
Previous Art Pick Up / New Art Drop Off

@ The Gallery
Aug 30 @ 11:00 am – 12:30 pm
Show Opens: Tuesday, Sept. 1, 2020
Please remember our goal is to have consistent   "Showings"   on Wednesdays from 4-7.  Since we can only have  AOTB staff  plus 10 people at a time inside the gallery we ask that you invite your guests to accommodate that restriction.  We urge you to have them make an appointment, if they can,  to see the exhibit on a Wednesday from 4-7pm.  They can email AOTB at artists@artistsonthebluff.org and state "I would like to arrange an appointment on Wednesday, Date  ____   __  at Time (4-7)  ______  " .